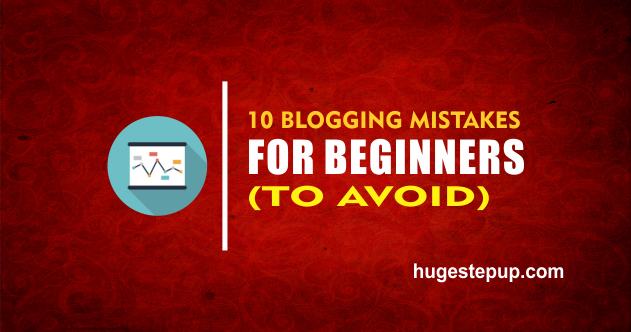 Blogging is hard!
Right?
To some extent, you might be right. But nothing good comes easy.
It even gets worst if you are shooting arrows into the dark.
Why did you think some bloggers succeed within a short time, while others never succeed?
The answer is simple…
Blogging is a journey; you can only scale through If you know the right button to press. It's not a guessing game.
The journey becomes easier If you learn from other's mistakes. Then you already know what blogging mistakes to avoid.
To help you out, I have outlined ten blogging mistakes for beginners to avoid if you want to succeed.

Without further ado, let's dive in.
#1 Mistake: Not writing Long Content
We all love little investment with huge profits; unfortunately, blogging doesn't work that way. You must write and write well. Content is King, and Quality Content is even better.
Interestingly, longer Content performs well on search engines. SerpIQ analyzed search results for over 20,000 keywords. They concluded that contents with over 2000 words always dominate the top 10 results.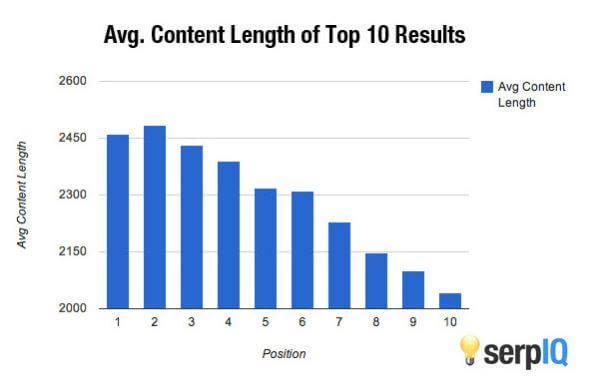 what is that speaking?
You should focus on writing long detailed Content.
Don't get it wrong. Long Post means: meaningful and informative Post, not a terrible content you slap together in 30 minutes.
Not easy, right?
But you need to provide top-notch value to get a better result. You should revisit your previously published Posts, edit and format them.
One important thing…
Don't copy someone's Content; It will ruin your blog. If you want to get exposure for your blog, you must deliver quality content.
Benefits of Long-form of Content:
Backlinks
One significant advantage of longer Content is backlinks opportunity. Long posts attract backlinks naturally. Nobody wants to link to a creepy post.
Once I notice a post is long enough and properly formatted, I assume it contains values, linking to it won't be a problem. Baclinko analyze 912 million blog posts, they check the correlation between word count and backlinks. The result was fantastic.

As you have seen, the longer, the better. Another Advantage of longer Content is…
Social Interaction
Have you ever shared a post on social media?
If you have, it's most likely a long and informative post.
Buzzsumo analyzes the social interactions 100million contents attract. The result indicates that posts with over 1,500 words have most likes and shares.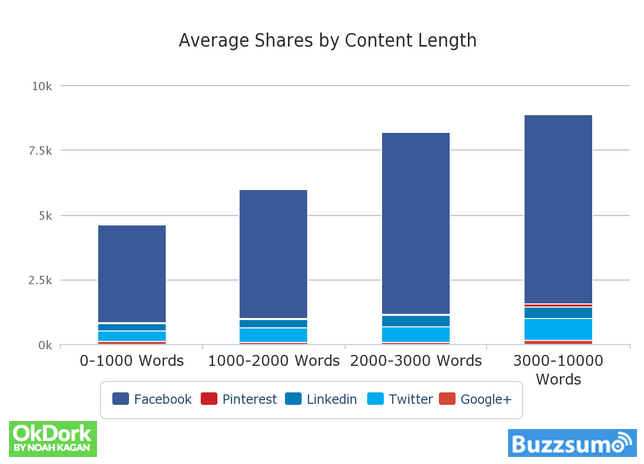 If you want your Content to attract shares and likes, you should be mindful of the length.
High Conversion
Seriously, Online buyers are weird (I am too).
Some don't get convinced even after reading your 4000 words Post.
I read reviews a lot before buying anything; you can't convince me with 500 words.
If you focus on sales, you can't cut the corner with short content.
#2 Mistake: Lack of Consistency
One of the biggest blogging mistakes to avoid is inconsistency. You don't post randomly; you need to have your posts scheduled.
If you post once every week, choose a perfect day and time you would respect steadily. Don't break your own rules. You should have a blogging mindset that can keep you motivated.
It's even better if you have your calendar, it will make posting schedule becomes effortless.
Benefits of Consistency:
Trust and Branding
If you serve your audience fresh content every week for 365days without missing, you have earned their trust, and you have scheduled your blog as part of their life.
It's easy to build a brand if you are consistent. Once you disappoint them (audience), they won't expect much from you anymore.
The bottom line is: you can't achieve anything without consistency.
SEO advantage
With being consistent, you don't only satisfy humans. You also benefit from search engines.
Google uses bots; these bots are not human; they act as programmed.
If Google bots visit your blog every week to crawl (find) new Content, it will serve as an upvote for your blog, and your posts would start climbing google's first page.
There are about 200 ranking factors Google considers before ranking a post; Consistency is something that can't be overlooked.
Bonus Tip: Mathew Woodward recently launched his free keyword research tool, This would be a game-changer if you want to access great keywords for free. you should check it out here.
#3 Mistake: Not understanding your Audience
Who are you writing for?
If you can't answer that question, It's a pity. You are wasting your time.
Before starting a blog, you must ensure you choose the right target audience.
For instance…
This blog is helping people that want to start a blog and become successful. That is straight forward, right?
You don't target engineers today, lawyers tomorrow, and so on. If you can't define your target audience, you should stop writing.
The solution is simple….
You don't need to start again, not necessary.
Step 1: Flashback to when you created your blog, which people do you want to help?
If you already choose the right niche, it won't be hard to determine your audience.
Step 2: Scan through your blog to find those posts that are entirely off-topic, deleting them would be an excellent idea.
That would serve as a cleanser; you are keeping your blog neat.
Step 3: Write and Publish new posts. This time, don't derail from your niche.
Knowing your audience is the most essential aspect of a blog. You should be writing for an audience, not the search engine.
Even if you pay attention to SEO (more about this later), you can only see a positive impact when you choose the right audience.
#4 Mistake: Focusing on Quantity over Quality
Because of the emphasis laid on Consistency, Bloggers now push out garbage content just to keep up their consistency rule.
There's no point publishing content of no value.
Let's tackle it, you need to balance the equation.
If you post twice a week, make sure it's worth reading. You need to amaze your readers, give them something new and unique.
To get a clear view of what quality content meant, you can evaluate how google has determined if a content is of high-quality.
Google rolled out an algorithm in early 2011. It's called panda.
Panda penalized duplicate Content, low-quality Content, thin Content, content farming, poor content tier to affiliate links, and more.
The golden rule
It's easy to determine if your Content is quality or garbage.
How much research do you do?
Research is the key. Even when you thought you know it all, there will be something you are missing. I love to research a lot; it helps me uncover new ideas.
Again, make sure you are writing an in-depth guide. Your blog should be the final destination of your readers. That can only happen if your Content covers everything.
I have published a post on how to write a unique blog post. You should check it out; it's detailed enough.
#5 Mistake: Not Buiding Subscribers
If you have been marketing, you must have heard "the money is in the list."
That's absolutely correct. The money is in the list.
You shouldn't wait till you grow big before building subscribers, that would be a big mistake you would regret.
Since Google keeps rolling out new algorithms, it's unpredictable if your traffic would balance. The recently announced Google algorithm sees some websites lose 50% of their traffic, while some doubled their traffic.
It all depends on Google; they own their business.
But with an email list, you would quickly drive traffic to your blog consistently. No algorithm would temper with your list.
It's even easier to convert sales with email messages than on the blog. It takes buyers time to be convinced. Most marketers confirm they make sales after 3-4 emails sent.
You shouldn't make this mistake. Start building list now. It's easy to set up an email marketing form on your blog using MailChimp.
So, how do you build a list?
Putting a subscription box at the top of your blog, or the right corner won't push readers to subscribe to your blog, you need to force them.
The easiest way to do this is by offering them free stuff. Everybody loves free things. This can be an ebook or any other digital material.
Ask them to drop their emails to receive it. It works well. You would quickly build your list with that strategy.
#6 Mistake: Not Networking
No man is an island, is it?
No blogger succeeds without the help of other bloggers.
Blogging is stressful at the beginning. It's even stressful when you decide to do everything alone. That is why you need to find blogging buddies. It would keep you motivated.
It's easy to network with other bloggers, follow them on social media, comment on their blog, help them, and many more.
Benefits of networking
Troubleshoot problems
If you encounter strange problems, you can easily discuss it with your blogging buddies. They would help you solve your problem since they might have experienced such.
If you don't network with other bloggers, you might spend the whole day on google trying to find solutions to your problems.
Hold Each Other Accountable
As I have said, blogging is lonely. At some point, you might decide to back out or lose the zeal. That is why 95% of bloggers fail.
A blogging buddy would hold you accountable, ask you why you are not updating your blog, motivate you, and help you in many ways.
Share Guest Post
If you network with other bloggers, you would have the advantage of publishing a guest post on their blog and vice versa.
This would increase your exposure, and add to your fame. It would even be a sweet link building opportunity.
Guest Posting within your blogging network is fun. You would be very comfortable as you have no one to hold you accountable for what you should write.
#7 Mistake: Lack of Promotion
Lack of promotion is a big mistake beginners make. You don't publish a post and call it a day. It's a NO-NO.
The rule of blogging is 80/20. This rule proposes you use 20% of your time creating Content, 80% promoting your Content.
If you work hard to produce content, you should work hard to promote your Content to get a better result.
Even if you have a massive list of subscribers, promoting your Content is not something you can overlook.
There are various means of promoting your Content:
Social Platforms
The 3rd most extensive source of traffic is social media platforms. In fact, some bloggers solely rely on social media for traffic.
Here is the exciting part…
SEO takes time before you start seeing the magic, but social platform is instant. Even if you start a blog today, and your Post went viral on social media, you would receive too much traffic more than you can handle.
The most successful social platform for me is Pinterest, once your pin goes viral, that's all. You would start enjoying free traffic.
Forums
Another big opportunity to promote your Content is on forums. I have experienced success with many forums like Quora. Once you answer a question and it went viral, you start receiving free traffic too.
You can join any forum of your choice. I love quora because it's a multi-niche forum.
#8 Mistake: Using Free Blogging Platform
There's this quote from Sarah that says:
You either get free stuff, or you get freedom. You cannot have both and you need to make a choice

- Sarah Palin
Let's face it. There's no freedom in free stuff. If you think of making money from your blog, you should never start a blog on a free platform (Blogspot, wordpress.com, Tumblr, and many more)
Starting a blog with Bluehost costs $2.75/month, that's a fair deal.
Few reasons you should never start a blog on a free platform:
Professionalism
Are you treating your blog like a business or hobby? you can't present yourself as an expert on a free blogging platform. How are you supposed to earn your reader's respect on a blogger blog?
That doesn't make any sense.
When I created my first blog, it was on a free platform (blogger). I aimed to use that blog to understand how blogging works.
After understanding the do's and don't of blogging, I switch to a self-hosted WordPress blog. Bluehost offers a great deal. Their offer starts from $2.75/month.
Control
Oh, I forget to tell you blogger deleted my first blogger blog. Well, since it's a free blogging platform, I don't have control over it.
Free stuff are not really free. My first blogger blog is a perfect example. Out of all the blogging mistakes for beginners, that one is the strongest.
Most free blogging platforms like wordpress.com won't even allow you to display ads or install plugins on your blog. This is because they already show their ads.
In short words: Free blogging platforms can be a waste of time, start your self-hosted blog on Bluehost at $2.75/month.
#9 Mistake: Neglecting On-Page SEO
SEO is the backbone of Organic traffic. That being said, most newbies believe SEO is hard; the truth is SEO is simple.
The only hard part of SEO is that it takes time before you start seeing results. You can easily get frustrated in the process of waiting for your blog to grow organic traffic.
SEO is divided into On-page and Off-page; both are important and can not be overlooked.
If you are new into the blogging world, chances are you have heard much about link building and blog promotion (off-page SEO). Only a few experts talk about the power of On-page SEO.
On-page SEO carries much benefit than you can think of; it plays a vital role in growing a website.
Yoast plugin is a good start if you know nothing about on-page SEO, the plugin would serve as a guide whenever you want to publish a new post.
If On-page SEO is correctly done, it won't take long for results to start showing.
#10 Mistake: Blogging with Speed
Blogging is not a short term goal; you can't achieve everything immediately. Blogging should be in a marathon, you go slow and steady, but in the end you achieve your result.
This bolsters the point I made about consistency. You should apply wisdom when being consistent; remember you would keep updating your blog forever.
You don't have to start posting five content per week; you would soon run out of ideas. I recommend one post per week if you are just beginning, it would help to increase your content quality.
Related: How to speed up your blog to load in 2Sec
Conclusion on Blogging Mistakes For Beginners to avoid
Like every other thing in life, we make mistakes to gain experience. But it's better to learn from other's mistakes than to learn from our own mistakes.
I have just explained the most important Blogging Mistakes For Beginners to avoid. If you want to scale up your blog success fast, you need to set everything right.
There are many mistakes in blogging, but these are the most dangerous ones.
Now let's gist, Which of this mistake have you ever made before?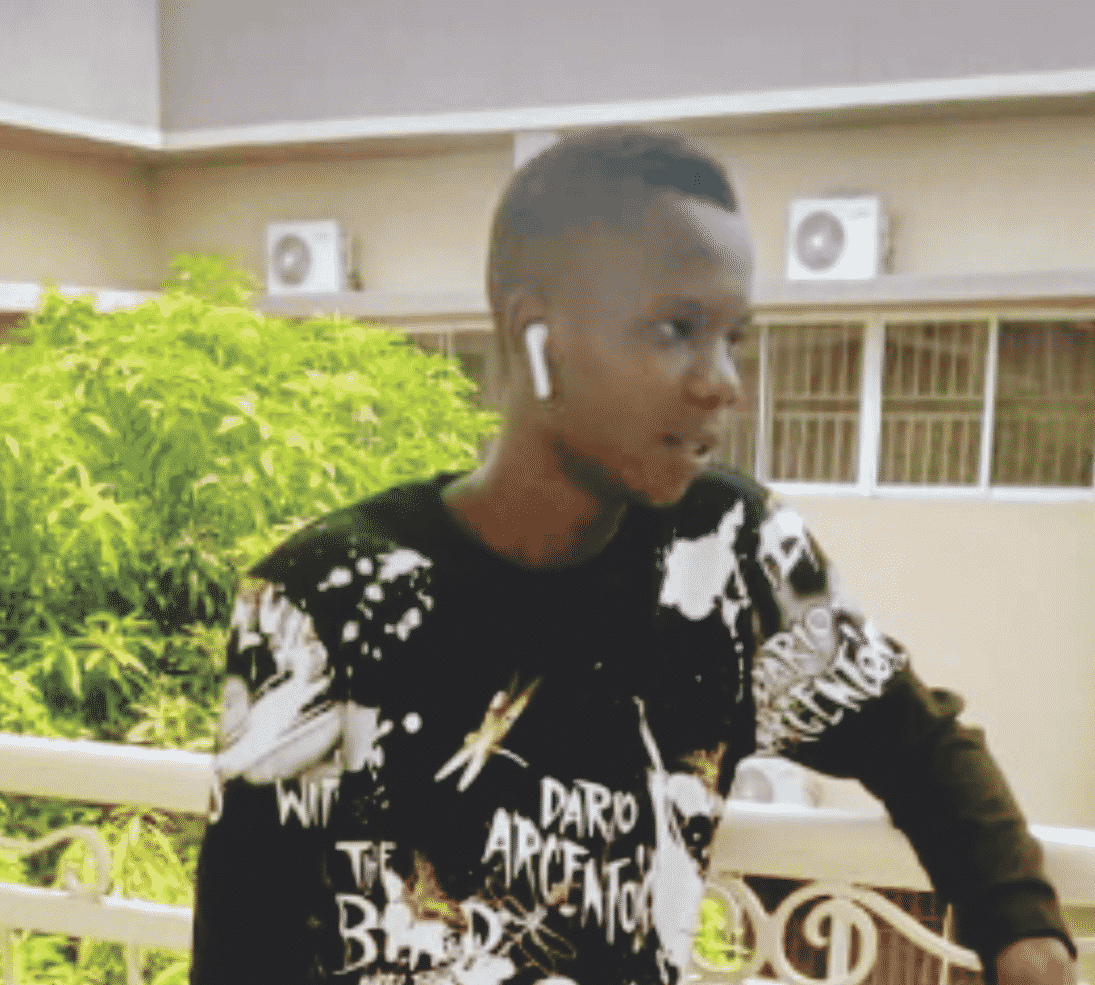 FOLAJOMI BALLO
I am a Digital Marketer, Blog Analyst. I help new Bloggers with powerful tips to grow their Blog Fast.