---
What are the most important pages for a blog? begginers
This same question pops up my mind when I just started this blog.
As of then, I only knew of 2 pages: About Page and contact page. I was confused about what more essential pages I should add to my blog just to make it look professional.
I finally concluded to add only those pages that are relevant to my site. Of course, not all pages are relevant to your blog, don't go overboard.
At the end of this post, you will learn what essential pages you should add to your blog to look more professional.
So…shall we? First, let me show you…
How to create important blog pages on WordPress
Before moving forward, let me show you how to create a page on WordPress and add it to your homepage menu.
First, Go to your WordPress.
1. Click on pages
2. Click on Add new
3. Name your new Page
4. Write content for your new Page
5. Publish your new Page


Even after publishing your new Page, it won't magically appear in your menus.
So how do you add your pages to home page menus?
Login to your wordpress
1. Click on appearance
2. Click on Menus
3. Add your desired Page from the box 'add menu item.'
4. Click on 'add menu'
4. Select where page menu should be displayed (head or bottom)
5. Click on 'Save Menu'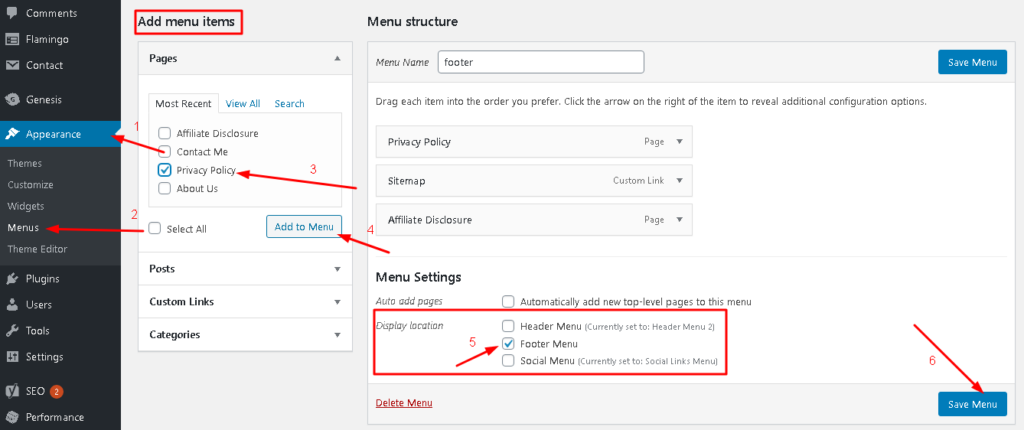 Once you save, your Page should appear in your desired location.
Are they even any essential pages for a blog? See my answer…
9 Important Blog pages for all blogs
About me Page
Who are you? What are you up to?
These are questions you should be ready to answer if you are providing top-notch value on your blog.
I receive plenty of messages from my readers; they love what I do, so they want to connect with me more.
Note to Fans: Thank you for always believing in me, I would keep providing you valuable contents.
Every blog must have an 'about me page.' This would create a natural connection between the readers and the blog.
More importantly, your about page is the best place to share your personal experience and real-life story.
If you are so good with words, you would quickly turn readers to subscribers leveraging your about Page.
Wait, do you even know me? Do you know why I started this blog?
Maybe you need to read more about the youngest digital marketer, read my about page here.
Contact Us Page
The next most valuable Page you should create is a 'Contact Us Page.' It would enable your audience to contact you when they need too easily.
The benefits of having a contact page are endless; It's one big pillar of any blog.
There are secure means of creating a simple contact page; you can either design your Page yourself or use a Plugin.
I use the Contact form 7 plugin to create my Contact page. It's easy and free to use.
Watch the below video to learn how to create a contact page.
Disclaimer Page
This Page is significant if you link to external resources on your site.
Whether you recommend products/services to earn affiliate commissions or just to help your readers, there's a need for a declaration. This is where the disclaimer page comes in. You need to be transparent to your readers.
Since I promote a few affiliate products on this blog (I earn little commission from sales), I already create my disclaimer page, I made it transparent to my readers.
It's simple, just tell them why you link to external resources.
You can easily draft a disclaimer page yourself.
Privacy Policy Page
This Page is one of the most important. Since the internet is full of data's, you need to declare these 3 things to your readers:
What kind of data you collect
why you collect those data's
How you use those data's
On the other hand, if you use third-party advertising agents who may use cookies or web beacon on your blog, It's a must to declare it.
Most of the time, you don't need a disclaimer page once you have a well-detailed privacy policy page. You should use this free tool to generate your privacy policy page.
Services Page
This Page is more important for a business website. If you offer any kind of service, then provide a unique page to read more about your service.
However, most website prefers to list their product/services in their about page. Whatever way, You can not go wrong.
Start Here Page
Every website has their money generating Page. You can call it the 'lead generating page.' For this reason, you need to create a start here Page where readers would trace to your unique offer or best blog posts.
For a website: it's usually a page where customers would find the latest product or services.
While for a blog, it's a page that leads to the essential contents of your blog.
I don't recommend creating this Page for a new blog. The reason is that your blog as little or thin contents on it.
Custom 404 page
WordPress usually serves a 404 error page when it cannot find a specific content on your website.
The reason is simple…
It's either you already deleted the content, you change the content link or the content does not exist.
This is how a 404 error page looks like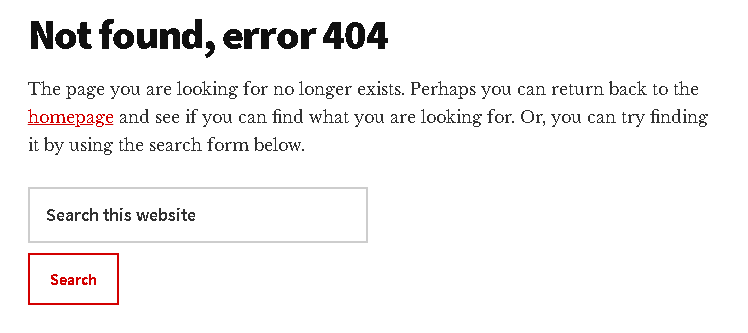 You should design your 404 error page to look attractive, provide an alternative for readers to search your blog for their desired content.
WordPress provides a default 404 error page; in some cases, you are good to go with the default page. Watch the below video to create your custom 404 page.
Advertise Page
One of the sweetest juice of blogging is to make money.
Please don't tell me you only blog for passion; I won't believe you.
Of course, there are many monetization methods. Still, few bloggers prefer to sell ad space on their blogs (good idea). If you willing to consider selling advert space on your blog now or in the nearest future, you need to create an 'advertise Page.'
This Page is where you would outline all your advertisement guidelines. Most important, list all prices for different ad types (banner, featured post, etc.).
see an example of advertise page
Write for Us Page
Believe it or not, it's hard for only one author to run a blog.
At this moment, I create and publish content on this blog alone (single-author blog).
But…
I would soon open an offer for other contributors to publish here, too (guest post).
Let's leave that for another day.
If you already want other contributors to start publishing on your blog, you need a page to invite them and walk them through how things work.
Most blogs apply strict guidelines for contributors (guest bloggers); the ball is in your court.
Check out one of my guest post I recently publish on another blog.
Conclusion: Important Pages for a Blog
I just nailed the important pages for a blog to create. This is a simple and relevant post. You seriously need to create most of these pages.
If you just created your blog, it would be a bit overwhelming. There would be tons of information, and not all of it is useful.
Figuring out what works takes experimentation and a lot of testing. I really want to help you grow fast, and it all depends on you.
First, Subscribe to my newsletter to receive unique tips to frow your blog. I would be your friend.
Now, tell me what essential pages you have not created on your blog and why?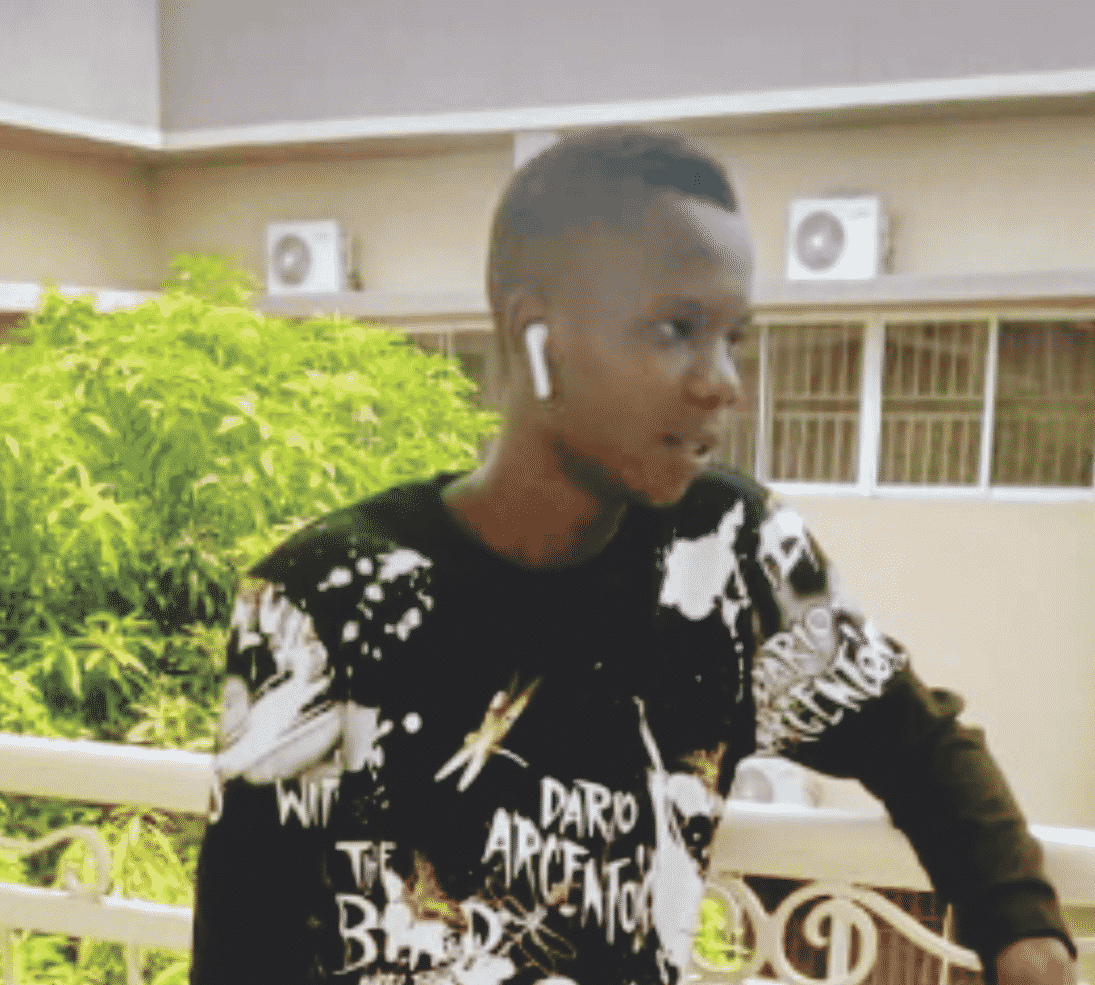 FOLAJOMI BALLO
I am a Digital Marketer, Blog Analyst. I help new Bloggers with powerful tips to grow their Blog Fast.