Do you want to become your own boss?
Or you just love to help people with your knowledge?
Either way, you need to start a blog.
Here is the thing:
Starting this blog is the best decision of my life. It feels good to do something you love, huh?
However, I had been a victim of Analysis paralysis. It took me several years to make the best decision of my life (starting a blog).
Stop procrastinating! Learn how to start a blog business and get paid doing what you enjoy. Blogging is a brisk business with a very great ROI.
More seriously, Blogging changed my life. It opens many doors for me. If you want to live a stress-free life, I recommend you start yours today.
Less talk, let's dive in.
8 steps to start a blog business and get paid
Step 1: Choose the right niche (most crucial step)
If you suck at picking a niche, you will never succeed as a blogger. Let's face it; how are you suppose to succeed without knowing your target audience.
However, picking the right niche isn't hard. two things must be greatly considered:
Profitability
Are there enough money-making opportunities in the niche?
Passionate
Are you passionate and can tirelessly write about different topics in the niche?
Let me be biased; you should balance the equation on 70/30. Focus on profitability as passion grows over time. Passion would unconditionally increase as you continue to generate more revenue.
Still confused?
To be more precise, this blog hugestepup.com is focused on helping new bloggers, teaching them blogging tips, WordPress tips, and SEO guide.
Here is what you should do:
First, who are your target audiences?. Are you targetting pregnant women, Salary earners, college students, bankers, and so on? You must first identify who you are writing for.
Secondly, What value do you want to disseminate to your target audience continuously? Finding your target audience is not as important as serving them mind-blowing contents.
For instance:
If your target audiences are college students, and you want to teach them how to save money while studying. That means you have effortlessly found a niche.
The secret is simple: Pick your target audience, then choose a problem you will help them solve.
Again, this blog (HugeStepUp.com):
Target audience >> New Bloggers
Value >> Blogging tips, WordPress tips & SEO guide.
By now, you should have decided on a perfect niche for your blog. You don't necessarily need to be an expert in that niche; you surely can learn new things on the way. Moreover, Nobody is born an expert.
Moving to the next step.
Step 2: Choose your Domain Name (Get it for free)
This should be stress-free. However, it can be hard since almost all the possible combinations won't be available. This is how a domain name looks like (example.com).
My suggestions:
You should aim for a short domain name; people would remember it easily.
It should sound unique; it would be suitable for branding
Don't insert popular brands name e.g. apple, amazon, and so on.
Don't include numbers in your domain name
Choose (.com) extension
However, I will recommend using your name as a domain name; You will become famous fast. But in case you find a more appealing domain name, go for it.
For instance:
My friend Enstine Muki use his name as his domain enstinemuki.com. Now that he is famous, his name keeps ringing in everyone's head.
Domain name usually cost around $14/year. Luckily for you, I will show you how to get one for free.
You choose your domain name already? Good, You will use it in the next step. In case you still don't know what domain name to choose, don't worry, proceed to step 3.
Step 3: Choose a web Hosting + Free Domain Name
At this point, you have started creating your blog, you should follow it carefully.
Plus, You can not start a blog without building it on a web hosting server.
This server is always active for 24/7. Bluehost is the idlest choice as it offers everything you need to create a blog. Features like:
Free SSL
Unlimited bandwidth
Unlimited storage
Free domain name (Saving of $12/year)
Easy to use cPanel.
Live chat support
30 days money-back guarantee
Now head over to Bluehost home Page, Click here to get there. Then click on 'get started Now.'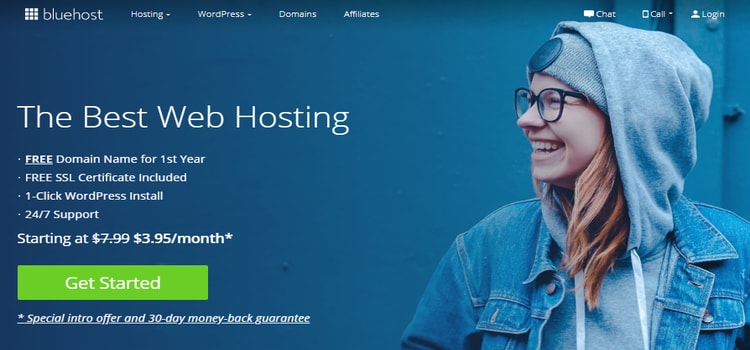 You have various plans to choose from but select the basic plan if you are creating just one blog.
On the next page, you can either claim your free domain or use another domain you purchased elsewhere. I recommend claiming a free domain, put in the domain name you want. At the same time, you can skip this process and choose a domain name later.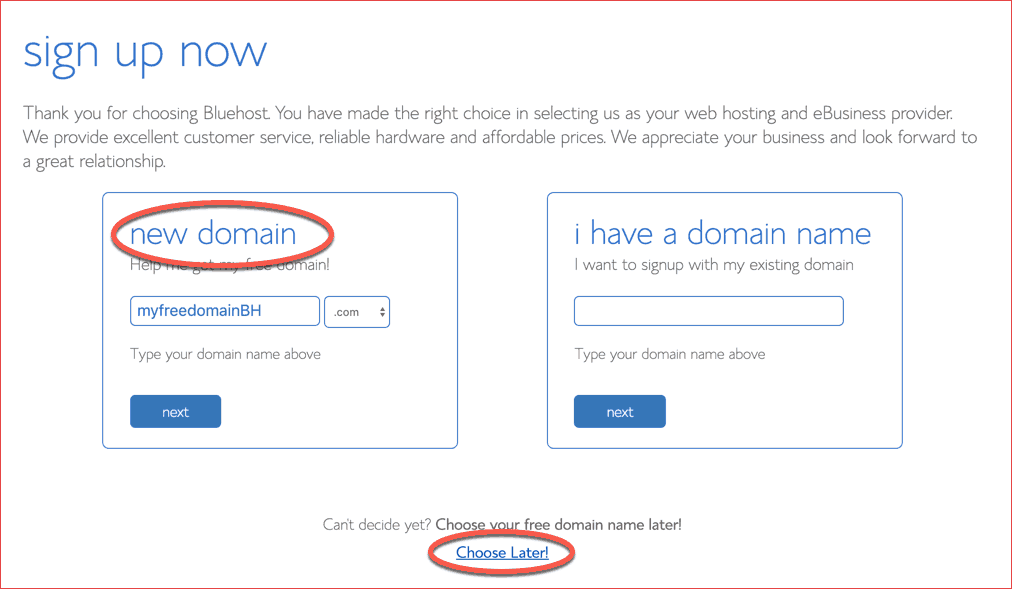 On the next page, fill up your contact information. Pay special attention to package extras as you can skip a few things to save some money. Unchecked everything, excluding 'Domain Privacy Protection.'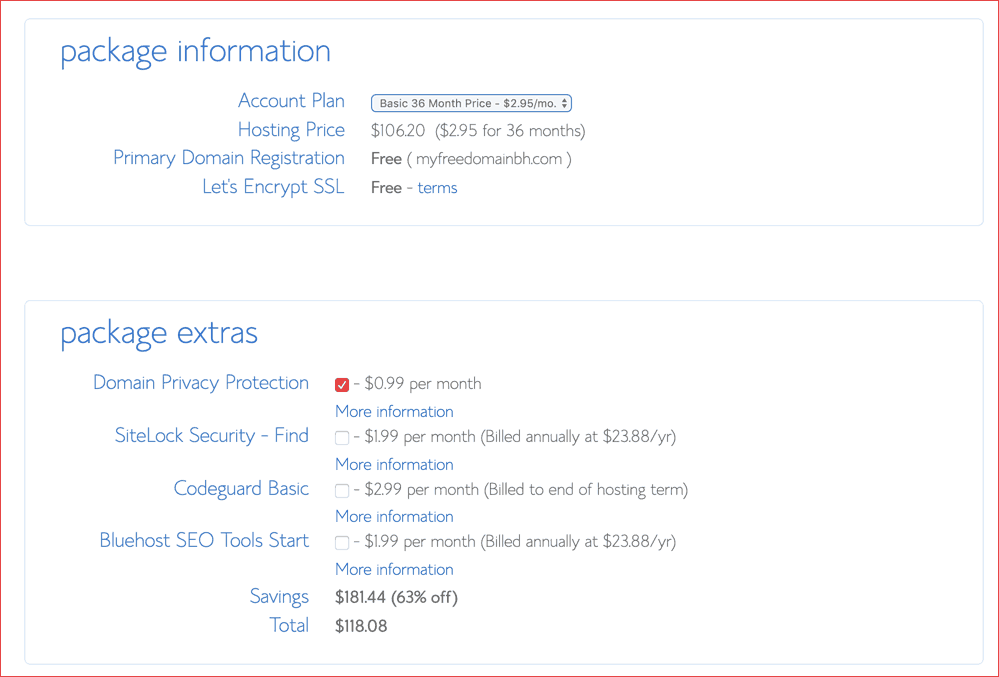 The next page is the payment page; you can either pay with a credit card or choose other forms of payment.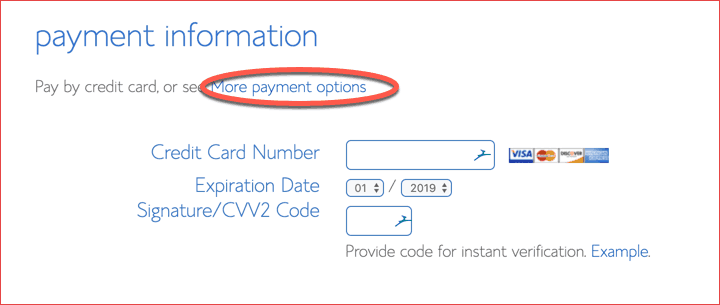 Once you make the payment, Bluehost will automatically create your account in a few minutes.
Additionally, Bluehost will install WordPress (your blogging platform) for you, so you can start blogging immediately.
Step 4: Set Up WordPress
Like I said earlier, Bluehost had WordPress already installed. You don't need to face the hassle of installing it yourself.
After the checkout page, Bluehost will prompt you to create a password for your account. Make sure it's strong enough yet easy to remember.
After successfully creating a password, you can now login to your WordPress account. It will automatically be connected to the domain name you choose earlier.
Once logged in, feel free to ignore any theme displayed to your view. Even when asked if you need help, kindly decline. This is how your WordPress page should look like: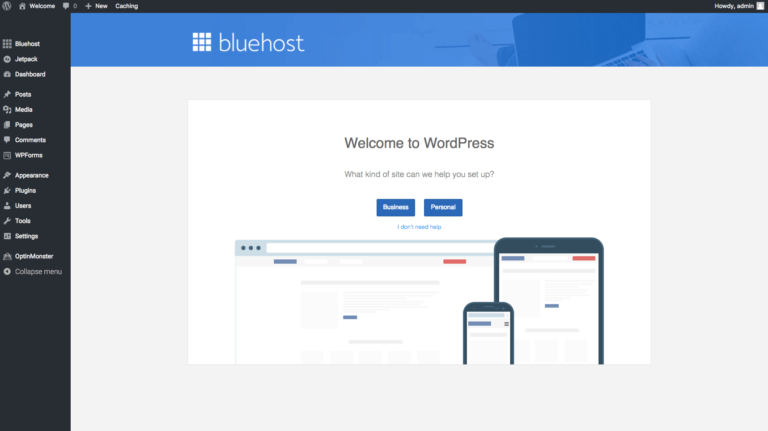 However, you have successfully created your blog. But not done!
You need to implement a few essential WordPress settings. Read this guide.
Step 5: Design your Blog by choosing a theme.
Your blog is ready, but Nobody wants to read an ugly blog. You need to make it look attractive.
Now you need to choose a theme for your blog. A free theme is a good start if you are not willing to spend any additional money. You can log in to your WordPress with this link www.yourdomain.com/wp-admin/. (change 'yourdomain' to the domain name you choose earlier.
Once logged in, hover to Appearance >> theme. You should find a sweet theme for your blog and install it.
Step 6: Install Essential Plugins
Even though you are less familiar with how WordPress work, plugins are used to add unique functionalities to a blog.
For instance:
If you want to add a contact form to your blog, you need a plugin for that. It depends on your needs, but there are over 54,000 plugins and still counting.
You don't need to install too many plugins; a few ones that are only essential to your blog is enough. I already helped you list the important plugins you need.
Read: Important Plugins for WordPress blog
Moving on…
Step 7: Add important Blog Pages
It depends on your blog, but there are some crucial pages every blog must-have. Page like about page is very essential for blogs.
However, I have written an in-depth guide on relevant blog pages.
Read: Important Blog pages every blog needs
Step 8: Write your first blog Post
If you have gotten this far, you are a blogger already. Now, how do you write an excellent blog post that would show up on google?
Writing a blog post is the most critical aspect of a blog. You should be willing to deliver quality content.
Interestingly, poor content does not rank on google. There is a technique I use:
Read: How to write a blog post that ranks on google
Congratulations, you just created an awesome blog.
FAQ: How to start a blog business and get paid
How do bloggers get paid, or do bloggers make money?
Yes, Bloggers make a lot of money. It depends on your niche and monetization strategy. Anil of Bloggers passion makes $10,000+ monthly. You get paid according to the payment option you want.
How much does it cost to run a blog?
There's no perfect answer. But running a blog is cheap; you even get a great ROI. You can start a blog at $3.75/month.
Are blogs Dead?
Hell No! Many companies are now spending much on running their blog. It's easy to convert readers to buyers through excellent content.
Should I start a blog on a free blogging platform?
Please don't. It will end up a waste of time because free blogging platforms are not suitable to rank on search engines.
Conclusion on How to start a blog business and get paid
As you see, creating a blog isn't tedious or technical work. You don't need to pay anyone as I have just shown you how to start a blog business and get paid.
What is your experience with creating your blog?
Do you find this article helpful?
Please use the share button below to share with friends. Pin to Pinterest.
Welcome to the blogging world buddy.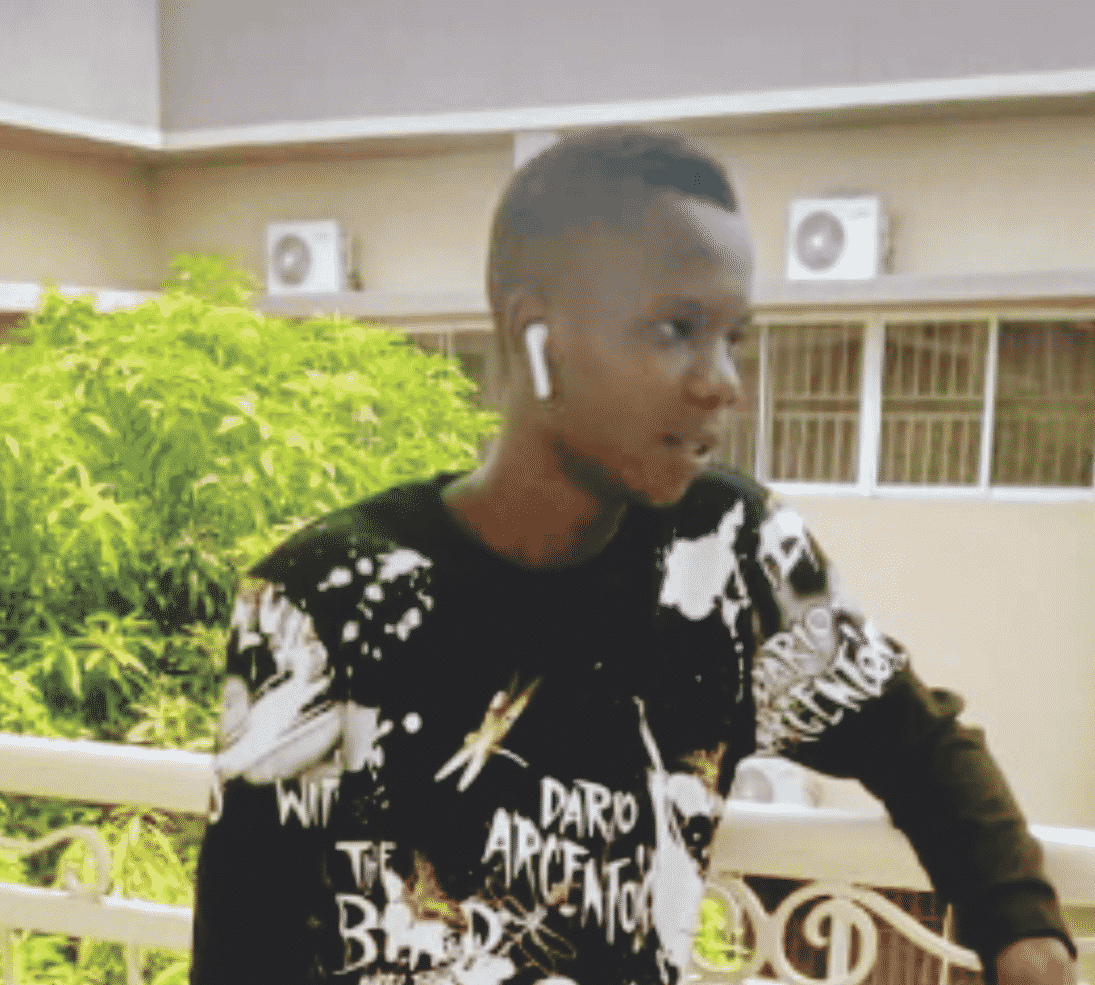 FOLAJOMI BALLO
I am a Digital Marketer, Blog Analyst. I help new Bloggers with powerful tips to grow their Blog Fast.