There are several reasons why you should start blogging. Whether to earn recurring income or to reach millions of people around the world.
When you finally decide to start a blog, you need a domain name (blog name). However, there are few things to consider when buying a domain name.
I will show you tips for choosing a Domain Name For A Personal Website Or A Blog, I will also show you how to buy a domain name without getting ripped off. Let's get started.
8 Powerful Tips For Choosing A Domain Name For A Personal Website Or A Blog
Before I list the steps involved in registering a domain name, it's crucial to show you a few things to know before buying a domain. Ready?
1. Stick with (.Com)
Even if you are non-techie, you probably know (.com) is the most popular domain extension. It's uncommon to search something on google and see a result that is not a (.com).
There are several other extensions (.biz, .info, .edu, .mom, .org, and so on). But to gain better recognition, If possible settle for a (.com) domain name.
Although, Some cases could warrant that you ignore a (.com) domain. Example – An organizational website will be on (.org) extension, An educational website will be on (.edu) extension, and so on.
If your website's purpose is to provide people with valuable information, then stick with a (.com) domain. That's very crucial for personal branding.
2. Choose a Brandable Name
The internet is now saturated, to rise above all odds, you must present yourself as a brand. You should start from your website or blog, make it sounds like a brand. Your domain name must be brandable.
Take a glance at the examples below, which of it will you love to visit just by hearing its name:
Blogging from Paradise (Bloggingfromparadise.com)
B 4 Blogger (B4blogger.com)
Of course, The first one sounds more appealing, more like a website you can trust. Branding starts with picking a brandable domain name. It's not hard, just think of a unique name (Or keep reading to number 8).
3. Keep it Short and Sweet
Some blogging experts suggest that you keep your domain length less than 16 characters. It's not rocket science, but keeping it short and sweet is most preferable.
If you want readers to quickly remember your blog, you must keep the name short. Don't sweat over this, even if it's not short, it should be sweet to hear.
4. Avoid Hyphens & Numbers
Adding numbers and hyphens will not hurt your domain or SEO, but it hurts user experience. Internet users are used to typing in domain names without hyphens and numbers.
Like I said earlier, the most important thing is making it brandable. Using numbers is even acceptable, but hyphen will make the domain so hard for readers to remember.
5. Consider Using your Name
If I had my chance, I would change my domain name to my full names. It's now a trend, one of the best way to build a brand is by using your full name as your website or blogs' name.
I do not know this earlier before buying this blogs' domain name. I did not regret it, though. Soon enough, I will create another blog with my full name.
It's not a must, but if you understand branding, you will love to use your names as a domain name. Of course, I will show you how to buy a domain name without getting ripped off (In a bit).
6. Avoid Trademarks
Imagine trying to start a blog with this name (CNNreal.com), in as much as it sounds nice, you will lose most of your readers to CNN.com. Because that name is already a global sensation, you might even be identified as spam.
Avoid popular brands name in your domain. Most of them are legally registered. Instead, use unique words that are appealing. Words like Apple, Sony, Microsoft, Amazon, and others will portray you as an intruder trying to rip people off by posing as the original brand.
7. Choose a Reliable Domain Registrar
There is a massive list of Domain Registrars, but not all are reliable or minimize cost. Why should you pay a high price for something you could get for a lower price.
I recommend using Namecheap, As the name implies "Name Cheap" (Cheap Domain Names). They are the most reliable domain registrar I ever used.
You can head over to Namecheap website (here), or continue reading so that I show you the step by step approach to buy a domain name from them.
8. Use Domain Name Generator to Explore More Ideas
If you are still short of ideas of a domain name, then leverage name generators. I use this name generator, just open it and type in a word, it will return available domain names with that word.

See what it returns when I type in "blogging", I will have gone for "Blogging Pursuit" or "Blogging Cover". They sound unique for a brand. Just put in a word you will like in your domain name, the tool will do the rest.
Since I have shown you things to consider when buying a domain name, Now it's time to also show you how to buy a domain name permanently or Yearly.
How To Buy A Domain Name Forever (Is It Possible?)
Domain name purchase is usually yearly, but few people want to know How to Buy a Domain Name forever. It's easy, and I will show you now. I will list the steps involved in registering a domain name (Yearly or Forever).
Follow the steps below:
Step 1: Head Over To The Domain Registrar
Head over to Namecheap Website Here, Now type in your domain name (the one you love to buy). Then, hit the search button.


Step 2: Add Domain to Cart
After seeing the domain you like, click on add to cart. It will immediately add the domain to the cart for you. Now hover your mouse to the "Check Out" button and Click.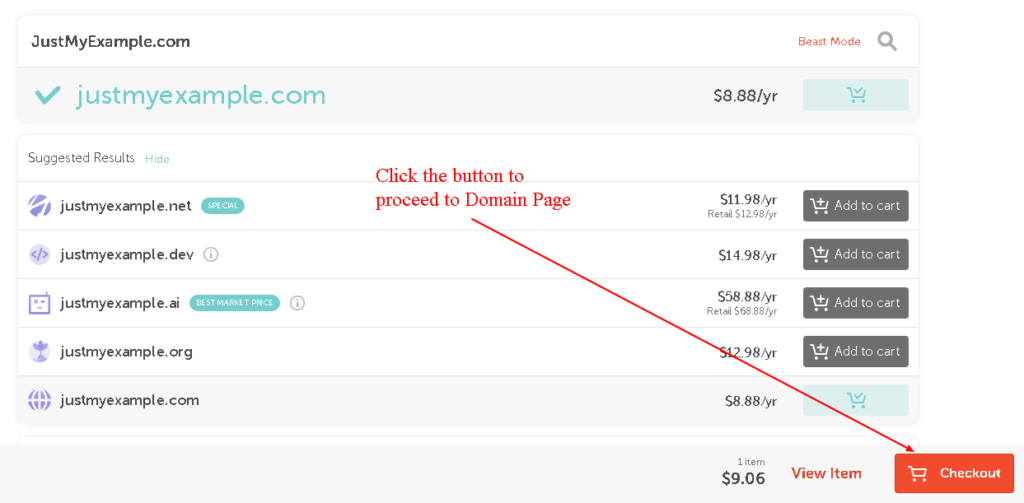 Step 3: Choose The Duration You Want
You will see a Shop cart page where you can complete your order. If you want to know how to buy a domain name permanently, this is where you implement the trick.
Click On the box displaying "1 Year", and select 10 years. This means you will pay for 10 years straight. You can always renew the 10 years below it expires.
You can also set it to auto-renew, so you buy the domain forever.
Once you have selected the duration you want or set it to auto-renew, Click on "Confirm Order".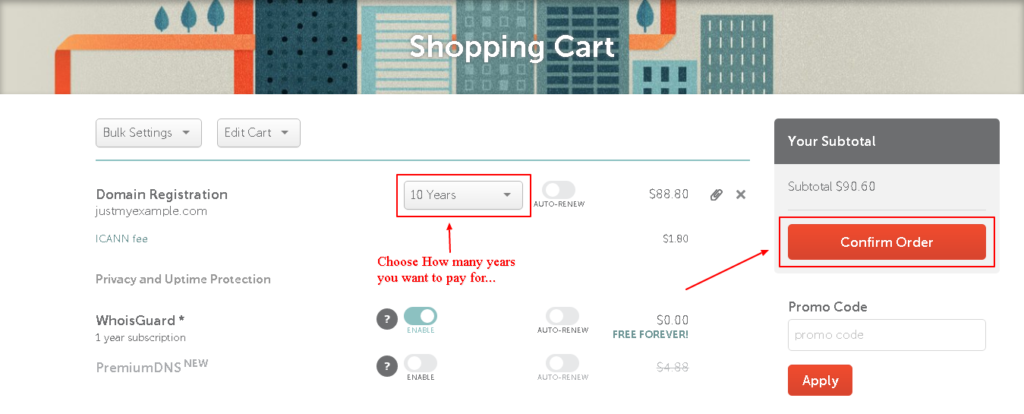 Step 4: Create an Account
Next, You will be asked to put in a few information so your account can be set up. That way, you can log in to check your properties. After sign up, you will be asked to pay and finalize your order.
Remember, I choose 10 years in the example, choose whatever you want. By default, it will be 10 years. You can also change the payment option to whatever suits you.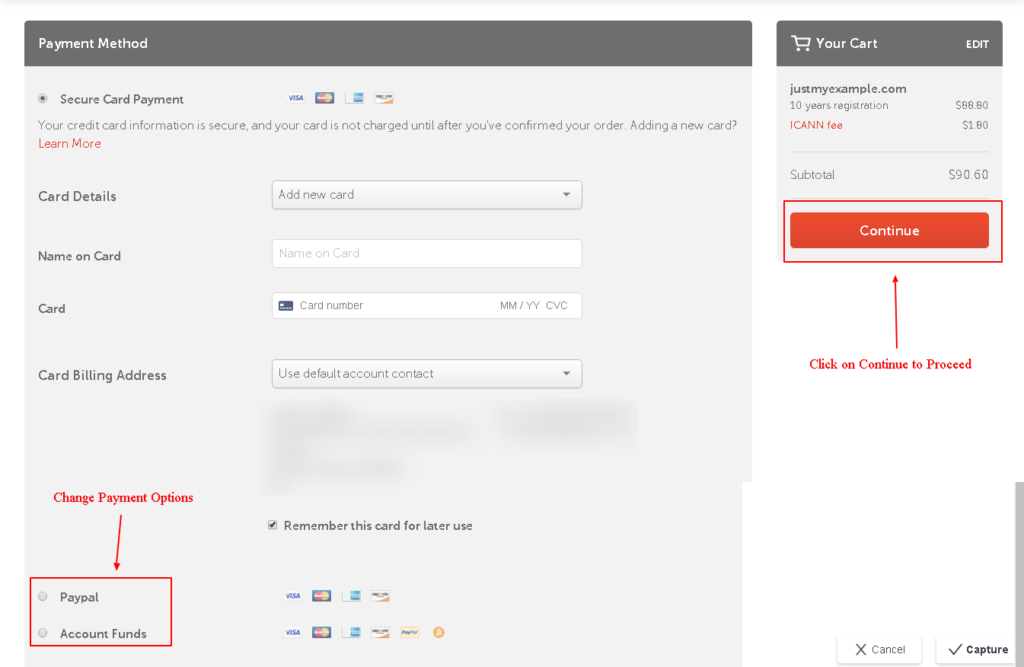 Proceed and confirm your payments, the Domain name will be added to your Cpanel once your payment is authorized.
Conclusion
Choosing A Domain Name For A Personal Website Or your blog is easy as ABC. However, it's essential to choose a reliable Domain Registrar. I recommend Namecheap because I personally use them, they are safe and offer cheap domain name.
Good Luck as you purchase your domain. In case you need a comprehensive guide to start a blog, Use this Ultimate Guide Here.
Extensive Readings:
If you find this Piece valuable, Please share and pin to Pinterest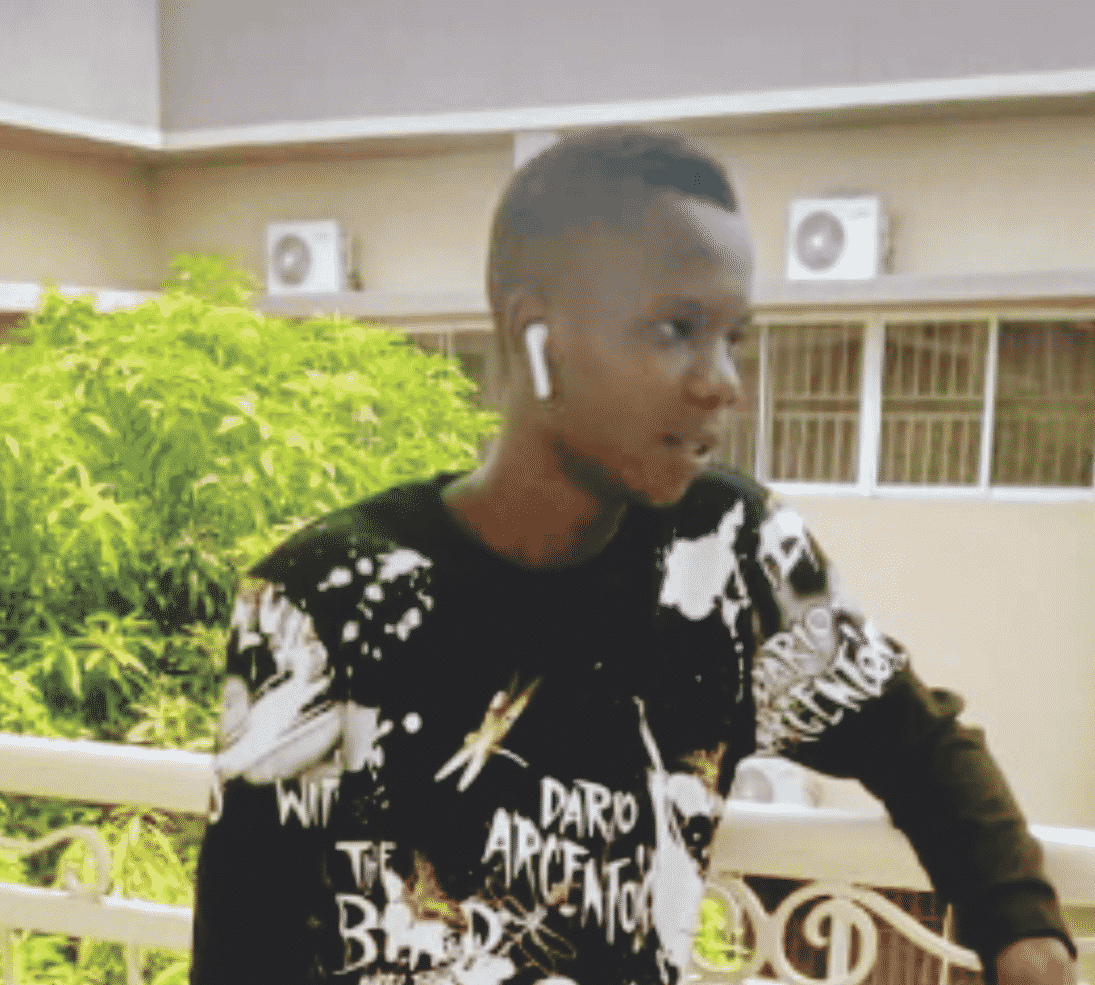 FOLAJOMI BALLO
I am a Digital Marketer, Blog Analyst. I help new Bloggers with powerful tips to grow their Blog Fast.